One of many decisions that couples struggle with is deciding on an indoor or outdoor wedding. While indoor weddings are traditional and free from the control of Mother Nature, outdoor weddings afford many benefits for a beautiful, unique, and cost effective wedding.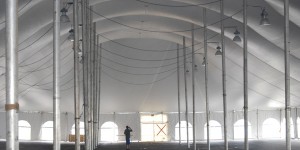 Even during the best seasons, you have a chance of weather interfering, so why are outdoor weddings so popular? The reason is that outdoor weddings afford some serious benefits that most couples can't refuse.
Five Major Benefits of Outdoor Weddings:
1.)    You can host your wedding in any location you see fit. Whether hosted at a local beach or private land, your wedding is what you make it.
2.)     Since outdoor venues require less décor and smaller investments, you can have a beautiful and classy wedding, without forking over the price of a glorious ballroom.
3.)    Outdoor weddings with tent rentals help eliminate the weather factor. For shade or rain, if the elements try to join the party- the tent provides substantial shelter for guests to enjoy themselves.
4.)    With natural picturesque backgrounds, adequate lighting, and minimal decor, wedding tents become as aesthetically pleasing as any indoor venue.
5.)    Studies show that being outdoors improves the mood and romance of any occasion, making your wedding the perfect outdoor event.
Mike Wright | Oregon Tent Rentals